Everyone is talking about TikTok (formerly Musical.ly) – another short-form, entertainment-filled, video-sharing platform, which after being released globally in 2017, has already become the 7th most downloaded app of the past decade. In 2019, it was the second most downloaded app, right after Whatsup, beating out Instagram and Facebook.
Unlike Twitter's Vine, which died out in 2017 largely due to its 6-second video limitations and the rise of Snapchat and Instagram, TikTok is expected to become this decade's biggest social media network.
TikTok videos are not only longer (maximum 60 seconds duration), but you can also repost videos that aren't made by you personally. Content on Tik Tok usually contains audio in the background with people dancing, lip syncing or doing everyday activities for entertainment.
The question is, will TikTok last longer than Vine this time around? Furthermore, considering the growing power of video marketing, what kind of brands and industries can actually benefit from using TikTok to reach their audience?
Who Should Use TikTok?
Like many other social media platforms, in order to decide whether TikTok is the right platform for your brand, you need to study who uses it, for what purpose and whether or not it makes for your business.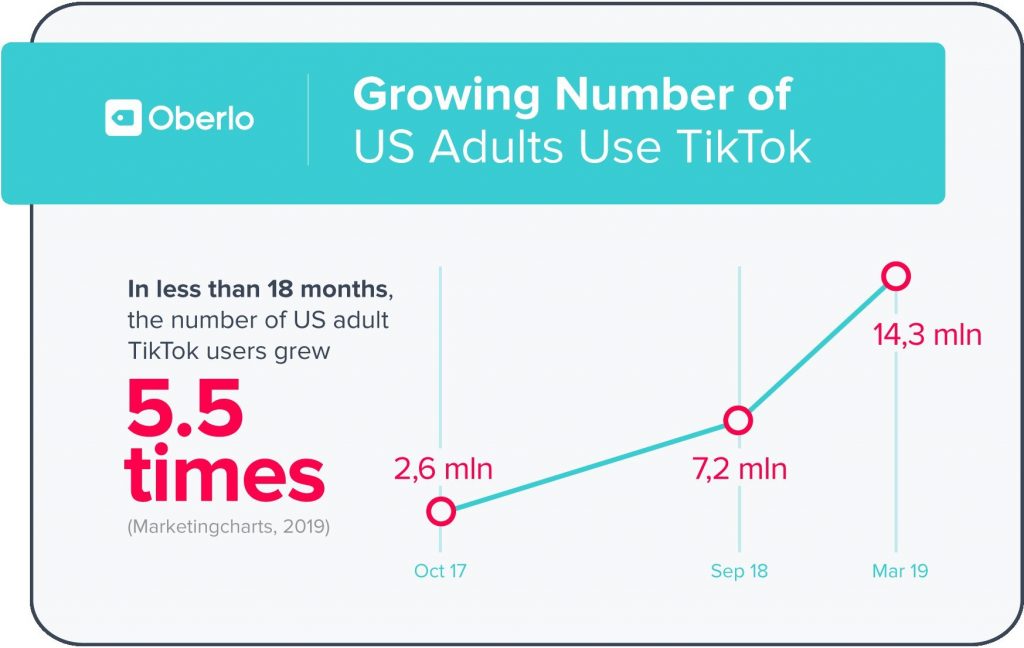 Source: Oberlo
Today, TikTok stands at over one billion users worldwide (124 million in the U.S.), and around 41% of them are between ages 16 to 24. Although Gen Z dominates the app in the U.S., more and more millennials are now using TikTok.
Similar to Snapchat, which was also primarily meant for the youth, TikTok is all about creating fun, and often silly, but very entertaining content. Something that is short and catches attention right away.
If your industry is in banking, government, insurance or other similar sectors, TikTok may not be the ideal platform for you at this time. However, like any other platform, we think it's a good idea to reserve your company handle even if you don't plan to post any content anytime soon.
However, if you are in the food, entertainment, media, health, beauty and retail industries, TikTok is an absolute must. You can use TikTok to showcase short behind-the-scenes footage, or feature fitness instructors and food bloggers post daily updates.
The popular fitness influencer, Jen Selter, is successfully using TikTok to stimulate her followers to do something active in a fun way. Whether it's showing a new exercise move or her meal prep skills, TikTok allows her to reach and engage with an expanded audience beyond Instagram.
As TikTok is growing in popularity among influencers, don't forget about the social platform's user demographics when deciding to partner with one. TikTok will be most effective for brands that actually target millennials and Gen-Z. It proved to work very well for DreamWorks which wanted to generate buzz among young girls prior to the release of their new animated series on Netflix.
Should You Advertise on TikTok?
At the moment, the platform is still in the experimental stage when it comes to advertising. With an average $10 cost per click, it's a bit expensive for average small businesses. However, if you have the budget, are willing to experiment, and are confident that you audience is on TikTok, by all means try it.
Here are four different ways for brands to advertise on TikTok:
Brand Takeover – Your brand can take over one specific topic for the day and use image, GIF or videos to create fun, entertaining content around that topic.
Hashtag Challenge – Creating sponsored hashtags to encourage user-generated content, engage users and attract influencers.
"For You" In-feed Videos – 9-15 second native video ads that appear on "for you" newsfeed.
Branded Lenses – Create 2D or 3D lenses that users can try out for themselves.

Source: TheDrum.com
Tik Tok's Benefits
In short, TikTok provides a platform of entertainment, creativity and community.
Probably one of the biggest benefits we see from using TikTok is that it provides a framework that makes it easier for people to create content. For example, it allows you to put together video clips, add audio, use filters, transitions, and control video speed. TikTok is a platform for video like Instagram is for photography.
Brands can use it to create their own branded content on TikTok and build an audience, similar to YouTube.
Localization is another great feature of TikTok where businesses that operate in multiple locations can use marketing campaigns for specific locations to reach their target.
Another awesome thing about TikTok is that the user engagement is phenomenal due to its unique algorithms. Videos on TikTok can go viral with relative ease even if you have zero followers. Being that most videos on TikTok are so short, the content on the app is meant for fast and casual viewing.
Does TikTok Make Sense for Your Business?
At the end of the day, the question of whether to use TikTok or not really depends on your business niche, audience and the goal you want to achieve with it.
TikTok flourishes on casual, user-generated content as opposed to high-quality, over-the-top edited videos. It also allows you to share these videos on Instagram stories and Snapchat making it easy and a great source of content creation that will stimulate engagement without emptying your pockets.
If you are still not sure whether TikTok is right for your social media and content strategy, it's worth a try anyway. TikTok is still at an early adaption stage that permits trial and error, and pretty much a free content creation tool to create organic content to reach an untapped audience. Anyone at your company can become a TikTok master and unleash their creativity.
With over a billion monthly active users that is actively growing, this is a huge opportunity for businesses to set their footprint in early. Because the app is still so new, it might just be the leverage your business needs to get ahead of the competition.
by Agnese Zimele
Blogger and Marketing Assistant